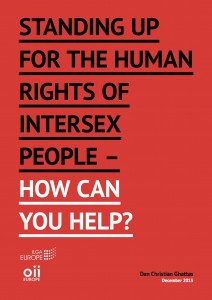 We are happy to present our new publication:
Available in English Turkish French Hungarian Serbo-Croatian
2015 has been a year of great successes for intersex activists in Europe and beyond. But of course, much more is needed to achieve real change and have an impact on the life of intersex people in Europe. Policy makers, health professionals, human rights defenders, teachers, we can all play a role to better respect, protect and promote the human rights of intersex people. The aim of this toolkit is to answer all the questions that come to your mind on what is it like to be intersex in Europe today, and how you can become a great intersex ally. Let's build on the momentum and work together for change! • ILGA-Europe & OII Europe
The Toolkit his available in
English Standing up for the human rights of intersex people – how can you help?
Turkish Interseks bireylerin insan haklarını savunmak. Nasıl yardım edebilirsiniz?
French Défendre les droits humains des Intersexués – comment être un allié efficace?
The English version is also available on the the ILGA-Europe website